FD-30 Freeze Dryer
Freeze drying, also known as lyophilization or cryodesiccation, is a low temperature dehydration process that involves freezing the product, lowering pressure, then removing the ice by sublimation.This is in contrast to dehydration by most conventional methods that evaporate water using heat.We are committed to providing our customers worldwide with a one-stop solution for food,fruit and vegetable freeze dryers.
The main systems of FD series freeze dryer are as follows:
(1) Pre-freezing system
(2) Main equipment system: Freeze-drying chamber (including water-catching cold hydraziner,product pallet,frame and conveyor system)
(3) Vacuum system
(4) Heating system
(5) Refrigeration system
(6) Control system
FD-30 Freeze Dryer Basic Information:
1. Heating operating temperature: +15℃…+120℃
2. Cold hydraziner working temperature: -30℃…-45℃
3. Quick-freezing device working temperature: -20℃…-40℃
4. Vacuum pressure: from 13Pa to 260Pa
5. Heating medium: demonized water
6. Heating mode:
(1)Steam heating
(2)Electric heating (Preferably used for small and medium-sized equipment)
7. Refrigerant:
(1)R507、R404A、R22 are optional
(2)R717
8. Refrigeration liquid supply mode:
(1) Full liquid circulation
(2) Direct expansion ( preferred for medium and small equipment )
9. Cold hydraziner working mode:
(1) Single cold hydraziner,One-time ice melting (preferred for small and medium-sized equipment)
(2) Multi cold hydraziner,alternate operation plus alternate ice melting
10. Vacuum pump combination mode:
(1) Oil rotary vacuum pump
(2) Roots pump + oil rotary vacuum pump (used for this machine)
(3) Roots vacuum pump + screw dry pump
(4) Roots vacuum pump + water ring vacuum pump
11. Reaching time of initial exhaust at 130Pa: 15 minutes
Les principaux systèmes des séchoirs frigorifiques de la série FD sont les suivants:
Système de pré - congélation
Système d'équipement principal: Chambre de lyophilisation (y compris l'hydrazine refroidie à l'eau, le plateau de produits, le cadre et le système de convoyeur)
Système de vide
Système de chauffage
Système de réfrigération
Système de commande

FD - 30 lyophilisateur renseignements de base:
1. Température de fonctionnement du chauffage: + 15 °C... + 120 °C
2. Température de fonctionnement de l'hydrazine froide: - 30 °C... - 45 °C
3. Température de fonctionnement du dispositif de congélation rapide: - 20 °C... - 40 °C
4. Pression de vide: 13pa à 260pa
5. Milieu de chauffage: eau désionisée
6. Mode de chauffage:
Chauffage à la vapeur
Chauffage électrique (de préférence pour les petits et moyens équipements)

7. Réfrigérant:
R507, r404a, R22 sont facultatifs
Colonne 717

8. Mode d'alimentation du liquide de réfrigération:
Circulation complète du liquide
Expansion directe (préférable pour les petits et moyens équipements)

9. Mode de fonctionnement de l'hydrazine froide:
Hydrazine monorefroidie, dégivrage primaire (préférable pour les petits et moyens équipements)
Hydrazine polyrefroidie, fonctionnement alternatif plus dégivrage alternatif

10. Mode combiné de pompe à vide:
Pompe à vide rotative à huile
Pompe à racines + pompe à vide rotative à huile (pour cette machine)
Pompe à vide roots + pompe à sec à vis
Pompe à vide roots + pompe à vide à anneau d'eau

11.130 pa temps d'échappement initial atteint: 15 minutes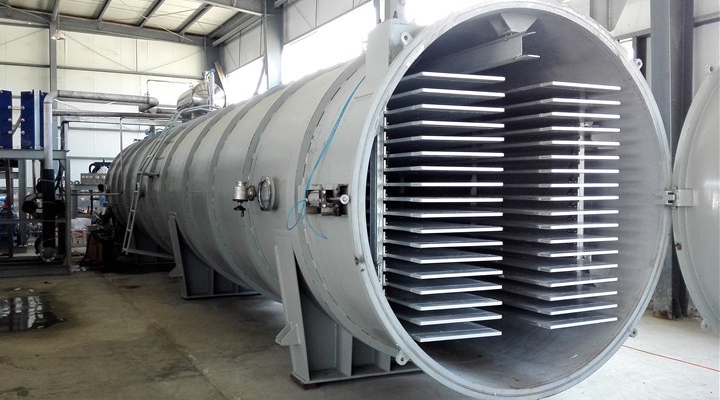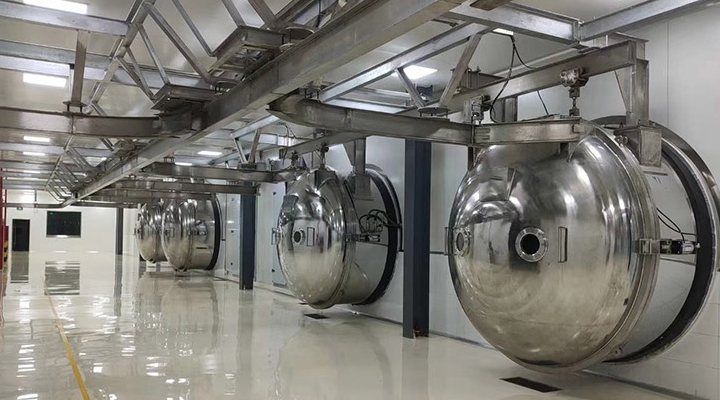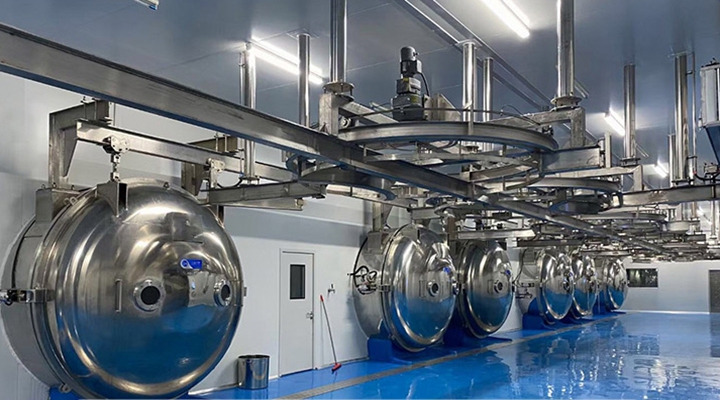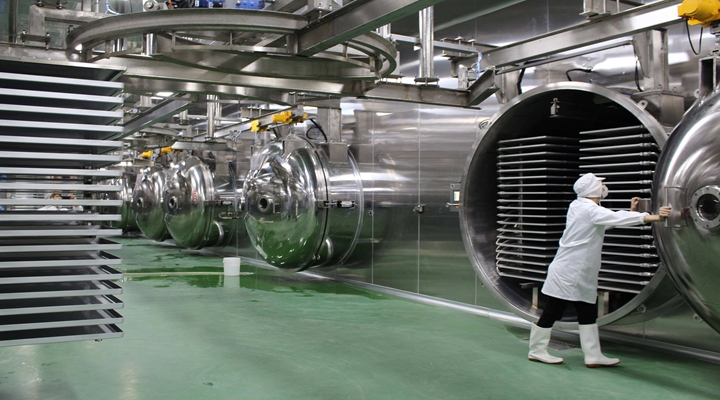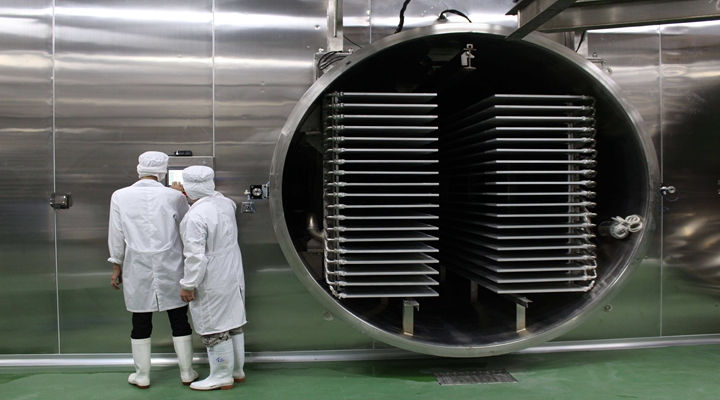 It is suitable for industrial production in food factories, and can be used for processing various vegetables, fruits, meat, all kinds of conditioning food, health products, etc;Raw materials are pre-frozen to below - 18 C by external special quick-frozen device, and directly frozen without heat transfer shelf inside the tank.
Radiation heat transfer is adopted for drying, with uniform temperature and high heat transfer efficiency, and the product tray is not directly placed on the heating plate for conduction and heating.
The control mode is PLC+PC, automatic operation and manual operation are optional, remote monitoring and guidance of user operation, more convenient maintenance, ensure the correct operation to equipment.
The key components and parts like compressors, vacuum pumps, water pumps, automatic control valves, instruments, electrical components are all come from top brand in Europe, America and Japan, Taiwan. For example,Air compressor come from German,Pump come from Grundfos,Refrigeration air compressor come from France La Mure.
Convient à la production industrielle de l'usine alimentaire, peut être utilisé pour la transformation de divers légumes, fruits, viande, divers aliments conditionnés, produits de santé, etc.; Les matières premières sont pré - congelées à moins de - 18 °C par un dispositif spécial de congélation rapide externe et congelées directement sans support de transfert de chaleur dans le réservoir de stockage.
Le séchage adopte le transfert de chaleur radiante, la température est uniforme, l'efficacité de transfert de chaleur est élevée, le plateau de produit n'est pas directement placé sur la plaque de chauffage pour conduire le chauffage.
Le mode de commande est PLC + PC, qui peut sélectionner le fonctionnement automatique et Manuel, la surveillance à distance et le guidage du fonctionnement de l'utilisateur, l'entretien est plus pratique et assure le bon fonctionnement de l'équipement.
Compresseur, pompe à vide, pompe à eau, vanne de commande automatique, instruments, composants électriques et autres composants clés de l'Europe, des États - Unis, du Japon, de Taiwan, des marques de premier plan. Par exemple, les compresseurs d'air viennent d'Allemagne, les pompes de granfou et les compresseurs d'air de réfrigération de lamour, en France.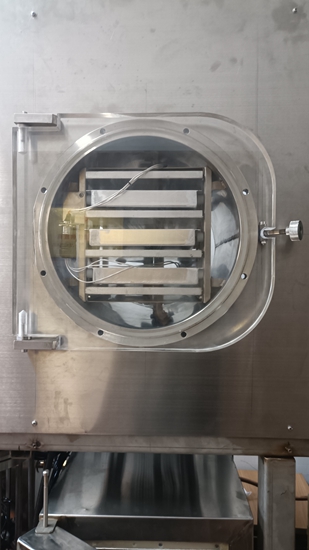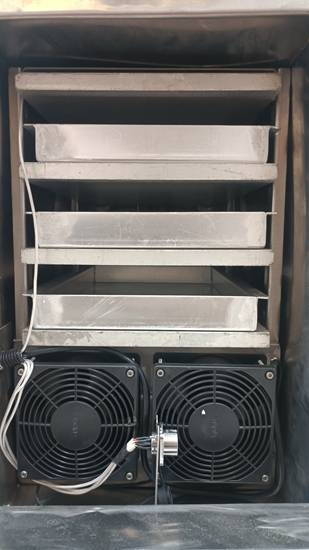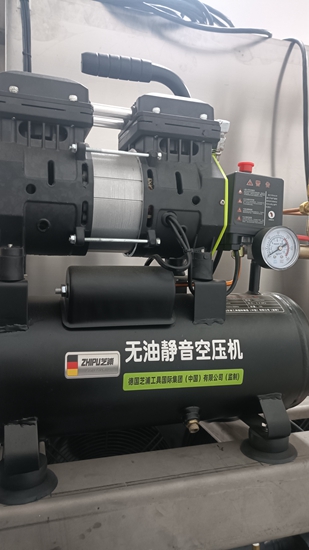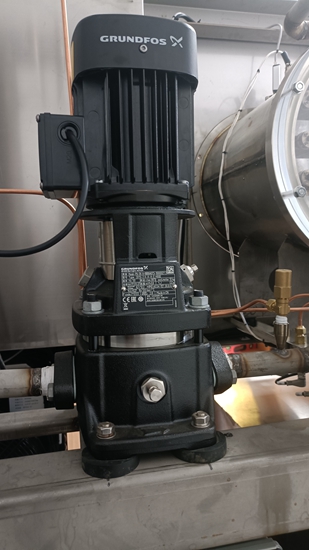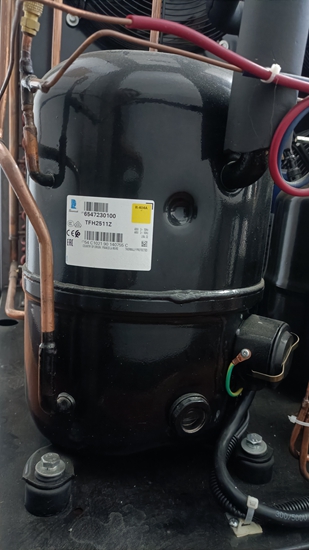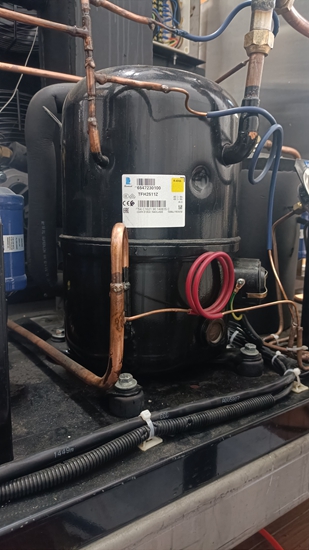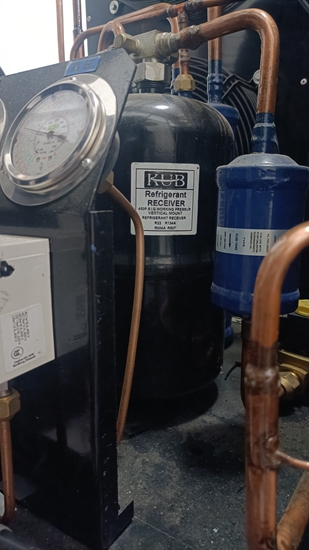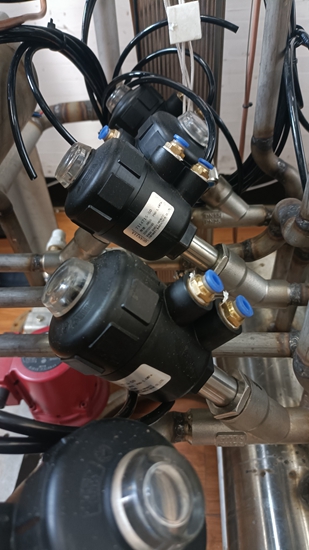 FD-30 Freeze Dryer Specification:
1.Dry area: 30 square meters
2.One batch material processing capacity: 300KG-600KG
3.Dry circle: 8 to 20 hours for food,vegetable and health-care product
4.Maximum dehydration capacity of equipment: 60KG/Hour
5.Equipment refrigeration capacity: 58.3KW(-38℃+40℃)
6.Compressed air volume:0.3M3min(0.5-0.7MPa, Clean air)
7.Steam consumption: 100KG/Hour (0.5-0.7MPa,Peak)
8.Equipment power: 25 KW (Dryer equipment), 57 KW (Refrigeration system)
9.Drying chamber: Square,dimension: 1730mmX1450mmX3600mm (High*Wide*Long)
10.Pallet size: 540mmX870mmX35mm
11.Number of pallet: 64 pcs
Configuration List and Main Technical Performance Description of 20M2-FD Freeze Dryer
Included:
Freeze-Drying Chamber 1 Set
Heating System 1 Set
Vacuum System 1 Set
Quick Freezing Chamber 1 set
Frozen Source System 1 Set
Control System 1 Set
Below are the details of each system
Freeze-Drying Chamber:
1.Dry area: 30 square meters
2.One batch material processing capacity: 300KG-600KG
3.Dry circle: 8 to 20 hours for food,vegetable and health-care product
4.Maximum dehydration capacity of equipment: 60KG/Hour
5.Equipment refrigeration capacity: 58.3KW(-38℃+40℃)
6.Compressed air volume:0.3M3min(0.5-0.7MPa, Clean air)
7.Steam consumption: 100KG/Hour (0.5-0.7MPa,Peak)
8.Equipment power: 25 KW (Dryer equipment), 57 KW (Refrigeration system)
9.Drying chamber: Square,dimension: 1730mmX1450mmX3600mm (High*Wide*Long)
10.Pallet size: 540mmX870mmX35mm
11.Number of pallet: 64 pcs
Heating System:
1.Heating plate anodic oxidation treatment,radiation heat transfer
2.Heating plate working temperature: 15℃…+120℃
3.Difference in temperature of heating plate: between any points <±1.5℃
4.The heating plates are arranged on both sides of the chamber, 17 layers in total
5.Cold hydraziner working temperature: from -35℃ to -45℃
6.Rear cold hydraziner, hot water melting ice
7.Heat exchange medium of heating plate: Demonized water
8.Heating method of water: by steam heating
9.Water temperature is regulated by the programmable temperature controller automaticaly
10.Water temperature drops rapidly through heat exchanger
11.Temperature rise rate of water temperature: from 15 ℃ to 120 ℃/60min (Un-load is standard)
12.Cooling rate of water temperature: from 60℃ to 15℃/45min (Un-load as standard)
Vacuum System
1.Vacuum pump group adopts the combination of Roots pump plus oil seal mechanical pump
2.Evacuation capacity: from normal pressure to 133Pa under the un-load condition for less than 15 minutes
3.Drying chamber working vacuum range: from 133Pa to 13Pa
4.The working vacuum is adjustable
5.Compressed air is used for all pneumatic valves and other components of the production line, and for the constant pressure system of the tank of hot water expansion
Quick Freezing Chamber
1.Food stuff are frozen in special quick-freezing storehouse, and then will frozen to - 18 C (central temperature) in advanced
2.Storage temperature of quick-frozen storage: -20℃…-35℃
3.Freezing capacity: 300Kg/3Hour
4.Cold Consumption: 16KW(-38℃/+40℃ )
Frozen Source System
1.Refrigerant: R507
2.Water-cooling condenser
3.Expansion valve is used for refrigeration and liquid supply
4.Direct cooling mode is adopted for cooling by air cooler
5.Indirect refrigeration mode is adopted for cold hydrazine cooling to ensure the stability of working temperature of cold hydrazine
Control System
1.Control mode: PLC + PC
2.Automatic and manual selectable
3.Real time remote monitoring
FD - 30 spécification du lyophilisateur:
1. Surface sèche: 30 m2
2. Capacité de traitement d'un lot de matériaux: 300kg - 600kg
3. Cycle de séchage: 8 à 20 heures pour les aliments, les légumes et les produits de santé
4. Capacité maximale de déshydratation de l'équipement: 60 kg / h
5. Puissance frigorifique de l'équipement: 58,3kw (- 38 °C + 40 °C)
6. Volume d'air comprimé: 0,3m3 min (0,5 - 0,7mpa, air pur)
7. Consommation de vapeur: 100 kg / H (0,5 - 0,7 MPa, Pic)
8. Puissance de l'équipement: 25 kW (équipement de séchage), 57 kW (système de réfrigération)
9. Chambre de séchage: carrée, taille: 1730mmx1450mmx3600mm (H * w * l)
10. Taille du plateau: 540mmx870mmx35mm
11. Nombre de palettes: 64
Liste de configuration du lyophilisateur 20m2 - FD et description des principales performances techniques
Y compris:
Chambre de lyophilisation 1 ensemble
Système de chauffage 1 ensemble
Système de vide 1 ensemble
1 ensemble de chambres surgelées
Système de source de congélation 1 ensemble
1 ensemble de systèmes de contrôle

Voici les détails de chaque système
Chambre de lyophilisation:
1. Surface sèche: 30 m2
2. Capacité de traitement d'un lot de matériaux: 300kg - 600kg
3. Cycle de séchage: 8 à 20 heures pour les aliments, les légumes et les produits de santé
4. Capacité maximale de déshydratation de l'équipement: 60 kg / h
5. Puissance frigorifique de l'équipement: 58,3kw (- 38 °C + 40 °C)
6. Volume d'air comprimé: 0,3m3 min (0,5 - 0,7mpa, air pur)
7. Consommation de vapeur: 100 kg / H (0,5 - 0,7 MPa, Pic)
8. Puissance de l'équipement: 25 kW (équipement de séchage), 57 kW (système de réfrigération)
9. Chambre de séchage: carrée, taille: 1730mmx1450mmx3600mm (H * w * l)
10. Taille du plateau: 540mmx870mmx35mm
11. Nombre de palettes: 64

Système de chauffage:
1. Anodisation de la plaque chauffante, transfert de chaleur radiante
2. Température de fonctionnement de la plaque chauffante: 15 °C... + 120 °C
3. Différence de température de la plaque chauffante: < ± 1,5 °C entre n'importe quel point
4. La plaque chauffante est disposée des deux côtés de la Chambre, 17 couches au total.
5. Température de fonctionnement de l'hydrazine froide: - 35 °C à - 45 °C
6. Hydrazine post - refroidie, eau chaude et glace fondue
7. Milieu d'échange de chaleur de la plaque chauffante: eau déminéralisée
8. Mode de chauffage de l'eau: chauffage à la vapeur
9. La température de l'eau est automatiquement réglée par un régulateur de température programmable
10. Chute rapide de la température de l'eau par échangeur de chaleur
11. Taux d'élévation de la température de l'eau: 15  ~ 120  / 60 min (sans charge)
12. Vitesse de refroidissement de la température de l'eau: 60  - 15  / 45 min (sans charge standard)

Système de vide
1. La pompe à vide adopte la combinaison de la pompe à racines et de la pompe mécanique étanche à l'huile.
2. Capacité de pompage sous vide: sans charge, de la pression normale à 133pa, la durée est inférieure à 15 minutes.
3. Plage de vide de fonctionnement de la Chambre de séchage: 133pa à 13pa
4. Le vide de fonctionnement est réglable
5. Système à pression constante pour toutes les vannes pneumatiques et autres composants de la ligne de production d'air comprimé, ainsi que pour les réservoirs d'expansion d'eau chaude

Congélateur rapide
1. Les aliments sont congelés dans un congélateur spécial, puis congelés à - 18 °C (température centrale) à l'avance.
2. Température de stockage par congélation rapide: - 20 °C... - 35 °C
3. Capacité de congélation: 300kg / 3h
4. Consommation de froid: 16kw (- 38 °C / + 40 °C)

Système source gelé
1. Réfrigérant: r507
2. Condenseur refroidi à l'eau
3. Soupape de dilatation pour la réfrigération et l'alimentation en liquide
4. Refroidissement direct du refroidisseur d'air
5. Le refroidissement indirect de l'hydrazine froide est adopté pour assurer la stabilité de la température de fonctionnement de l'hydrazine froide.

Système de contrôle
1. Mode de contrôle: PLC + PC
2. Sélection automatique et manuelle
3. Surveillance à distance en temps réel
Utility model patent certificate