How Crazy Export Shipping All Over The World
05 May 2021
Cargoes delayed by the grounding of container ship the Ever Given in the Suez Canal in April are beginning to arrive at ports around the world, adding to fresh pressure on global supply chains which were already struggling to cope with the problems posed by the coronavirus pandemic.
The ripple effect of the Suez incident would be ships out of their normal pattern of sailing, not calling where they should be calling, not picking up empties where they should pick them up.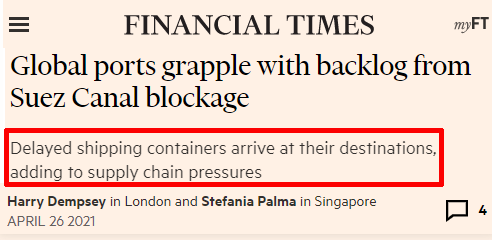 Ports around the world struggle to digest the backlog caused by the blockage of the Suez Canal.
Keith Svedsen, chief operating officer of APM terminals, the world's third largest container terminal operator, said that in Europe this week, the main impact of the Suez Canal blockage was felt, with ports in Spain and Northern Europe under significant pressure.
Container shortages pushed Asia Europe freight rates to their peak in March and then to a downward trend until the Suez Canal was blocked. According to freightos, the freight rate for 40 foot containers then rose 7% to $7807, up 450% from the same period last year.
https://www.ft.com/content/da6c709d-29c3-4f8b-b37d-a3480c6938e7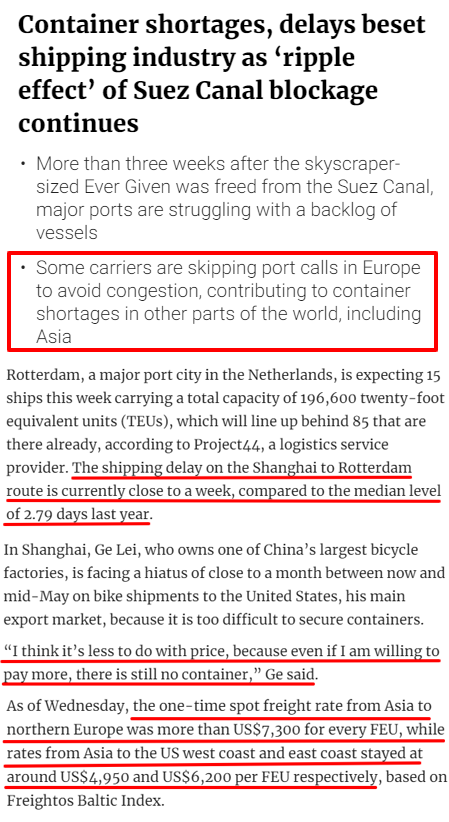 Butterfly Effect of Suez Canal blockage: container shortage and shipping delay.
Three weeks after Changci's extrication, major ports are struggling with container backlog.
Carriers jumping ports in Europe, aggravating container shortage in Asia.
15 ships arrived in Rotterdam this week, behind 85 that have already arrived. At present, the Shanghai-Rotterdam route has been delayed for nearly a week.
Lei, a bicycle exporter in Shanghai, said: "there's nothing more I can do in terms of freight. The problem now is that I'm willing to pay more for the freight, but there are still no containers."
At present, the 40 foot container Asian Nordic freight rate has reached 7300 US dollars, while the Asian West / East American East freight rate is about $4950 and US $6200 respectively.
https://www.scmp.com/economy/china-economy/article/3130672/shipping-industry-beset-delays-container-shortages-ripple
Next, we describe the current situation of port congestion in Europe and North America.
The knock-on effects of the blockage of the Suez Canal is likely to impact North Europe supply chains until June.
According to data from MarineTraffic, a global ship tracking platform, the ports of Hamburg, Rotterdam, Valencia and Antwerp now typically deal with more than 200 ocean-going container carriers a week.
According to operator Contargo, the average waiting time for the handling of its barges is 34 hours at Rotterdam and 41 hours at Antwerp.


"We don't have the time or any spare capacity to connect the cargo, there are no usable vessels in the market, and our regional operators are very busy," said one carrier Regional operators said: "the port is now a black hole.".
https://gcaptain.com/european-ports-now-bearing-the-brunt-of-suez-canal-blockage/
Driven by pandemic-induced, internet-fueled consumer spending, the Port of Los Angeles has been struggling to keep up with demand since February, when it was unable to accommodate all the arriving ships. It had its busiest March in 114 years. On April 27, according to LA's Signal, 10 container vessels were at anchor at the port, facing an average wait of 7.7 days.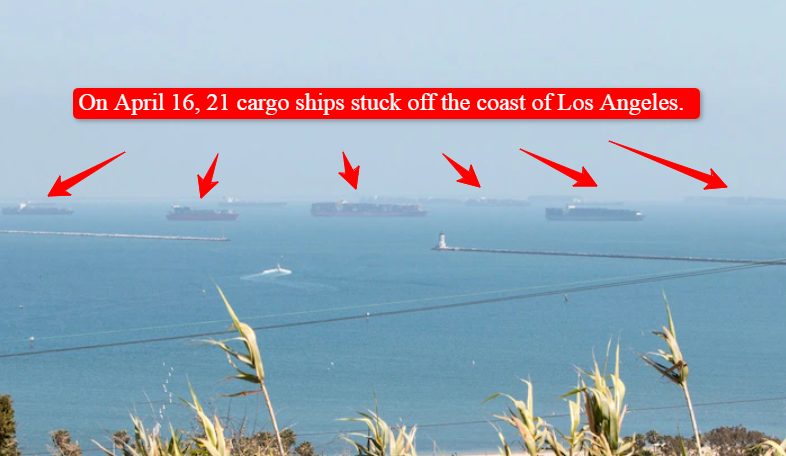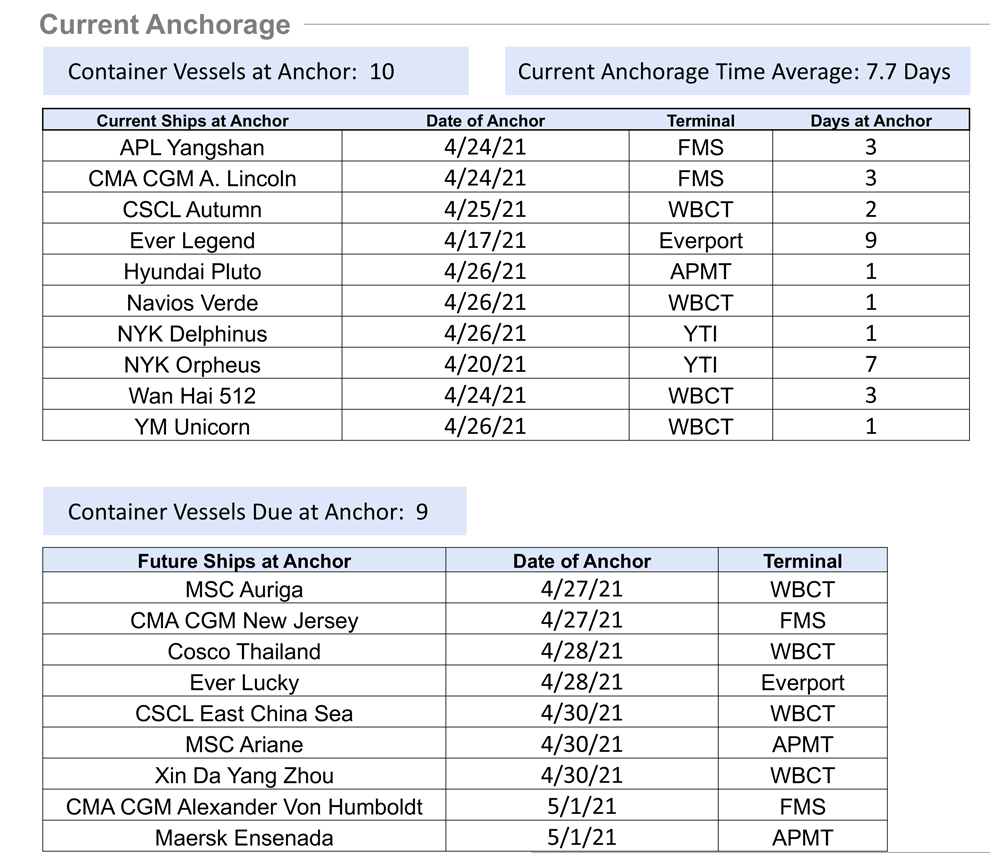 Real time query website:
http://volumes.portoptimizer.com/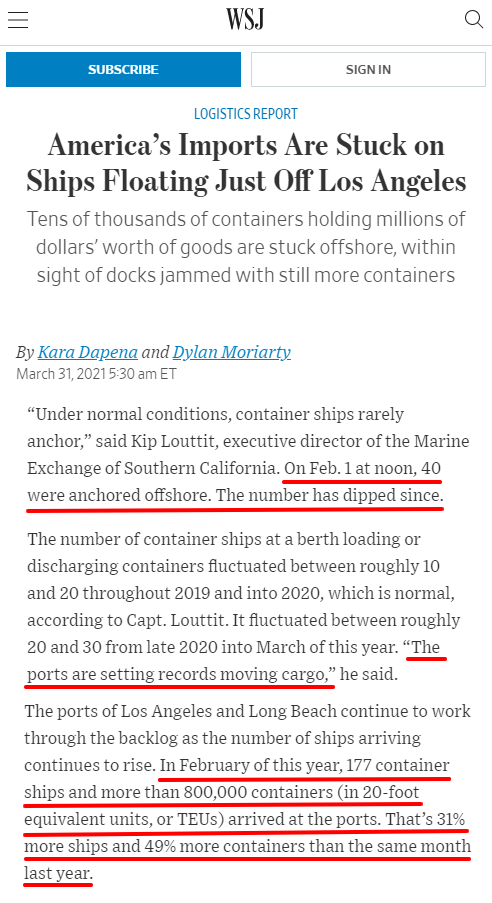 https://www.wsj.com/articles/americas-imports-are-stuck-on-ships-floating-just-off-los-angeles-11617183002
Finally, let's introduce the latest suspension arrangements of Maersk and other shipping companies.
https://www.maersk.com/news/articles/2021/04/22/voyage-number-changes-to-asia-to-from-north-america
Maersk announcement

On April 22, Maersk announced the adjustment of 10 cross Pacific routes involving Qingdao, Ningbo, Yantian, Nansha, Xiamen, Hong Kong and other Chinese ports, starting from May this year.
The announcement mentioned that due to the continuous congestion of ports in North America, the shipping schedule of its trans Pacific route was seriously delayed. In addition, congestion in Asian ports, bad weather and congestion in the Suez canal have exacerbated the situation.
As a result, the turnaround time of ships increased by two to three weeks compared with the normal situation, and the interval time of some voyages from Asia exceeded seven days.

MSC announcement
On April 21, MSC issued an announcement to adjust the relevant voyages of 10 trans Pacific routes, involving Qingdao, Ningbo, Yantian, Nansha, Xiamen, Hong Kong and other Chinese ports, starting from May this year.
The announcement said that the current market challenges have affected port operations, resulting in port congestion and delay.
https://www.msc.com/bmu/notices/2021-april/schedule-updates-trade-asia-to-north-america?lang=it-it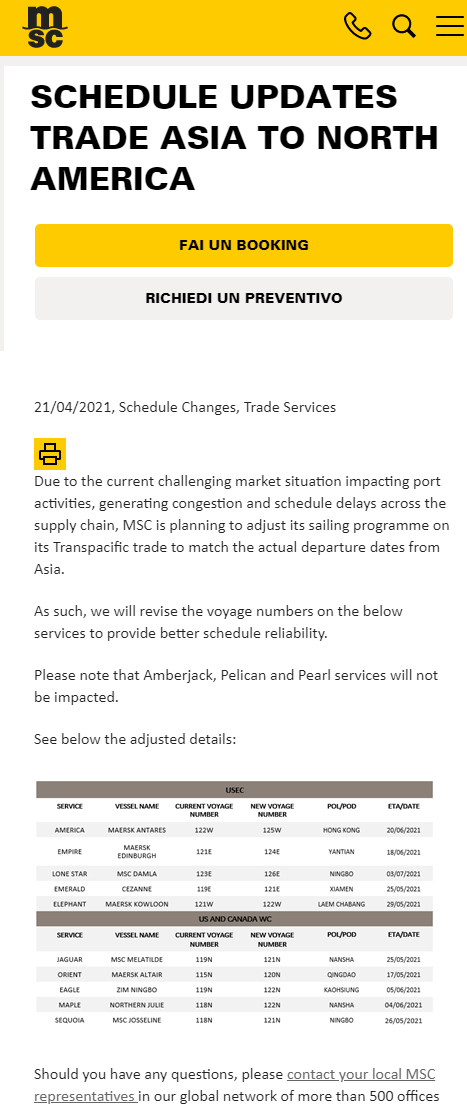 More than 1000 Montreal port workers went on strike in the morning of April 26, bringing port operations to a standstill.
https://splash247.com/government-moves-to-end-port-of-montreal-strike/